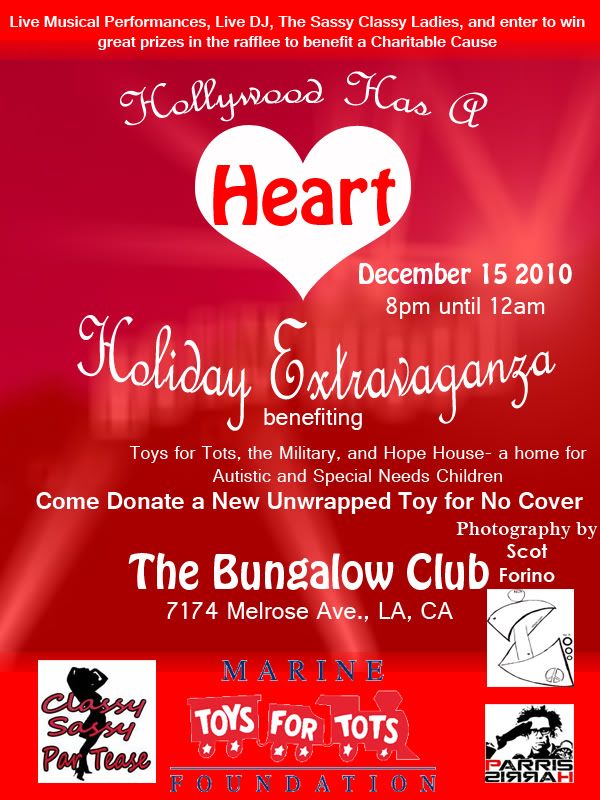 Apparently the Holiday season is meant for Holiday Events and parties to take up all of your time. I am definitely not complaining about the abundance of parties, but i am disappointed in my lack of being able to keep up with dates, prices and whereabouts of all of these events. But i do always have the sense and good luck of picking events to support who are supporting a good cause. I am totally bummed about the fact I missed the
Two Point Oh LA Snowball
as I am to be joining this fly group off fashion bloggers as a member, but there will definitely be other event with them and hopefully soon! I am proud to announce that I will not be missing the
Hollywood Has A Heart Event
put on by Tish Roberts and the Classy Sassy Ladies as I am one of Santa's helpers and it would be pretty rude to just not show up. There are also going to be a number of hot US Marines and Live Music all for a great cause. iZbyA.com is also donating a Style Consultation from Unconventional Couture and a gift card to the iZbyA.com store for the raffle benefiting Hope House. So come support us and those in need and i hope to see all of my sweetest and most stylish friends there!
Tha Dish:
"Come out and help Us Celebrate the Lives of Our Precious Future. There will be LIVE Musical Performances, a DJ and much more! This has been a very challenging Year for EVERYONE around the World. This Holiday Season, Classy & Sassy Par Tease is Stepping Out to Help motivate Our Communities to focus on Giving back as much as you expect to receive. The Children of TODAY will be Our Future LEADERS of Tomorrow. It is Our Responsibility to SHOW them how to LIVE, LOVE and RECEIVE Joy. There is NOT A COVER CHARGE...only (1)
new, unwrapped toy per guest."
It is time for Classy & Sassy Par Tease Annual Holiday Event and this year's event will be a Christmas Concert/ Charity event with a Toy Drive benefiting The U.S. Marines Toys For Toys Non- Profit Organization.
The event will reach out to the community in order to reach a goal of 250 toys for children with special needs! This year the event will be held @ The Bungalow Club located @ 7174 Melrose Ave. in Hollywood, California, December 15,2010 and will be from 8 to 12AM!
Come on in, bring a toy (and your hearts), and enjoy the night of live entertainment hosted by
Actress/MC- "Tish Tha Dish" Roberts!
Headlining our musical program again this year will be the recording artists/ local heroes Asphalt Messiah (
www.asphaltmessiah.com
) with special guest Jody Banks (The West Coast Bombshell!)! "We are honored to have an opportunity again to give back to the children of Los Angeles!" stated Kacy Jones, Founder & Lead Guitarist of AM. "We feel a sense of urgency and responsibility to pay it forward for the advancement of all children!"
Come out and help us enrich the lives of our precious youth. With your help we can bring joy to those who really need it! Special thanks to The Marine Corps as we appreciate your dedication and sacrifices that you make all over the world.
The "OFFICIAL EVENT PHOTOGRAPHER":
Scot Fortino
-CEO/Principal a
t Scot Fortino Photography &
Parris Harris
from PHasion TV & Justin TV.
If you or your organization would like to be directly involved (or for additional information) please contact Tish Roberts @
(310) 279-2826
Imissambious@aol.com
Keep Stylin
izbya.com
@iZ_by_A on Twitter